18 November 2016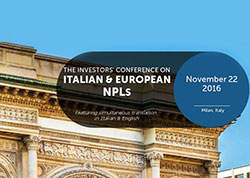 Securitisation Services sponsor of "The Investors' Conference on Italian & European NPLs"
Securitisation Services is pleased to announce its participation at the conference organized by the Information Management Network (IMN) to debate about the issue concerning the non performing loans in Italy and Europe.
Given the current stock of around 200 billion of bad loans, with a trend of continuous increase, the Italian government in cooperation with all the actors of the financial sector is developing various solutions to reduce the huge amount of NPLs and support banking system. In this context, the most used instrument is the securitization of these bad loans. Despite the spotlights turned on this topic, many points are still outstanding and need to be drawn to the market attention.
The event The Investors' Conference on Italian & European NPLs is taking place on 22th at the Hotel Principe di Savoia, Milan.
Securitisation Service is a sponsor of this important conference, which will be attended by many sellers, investors, servicers, advisors, law firms.
Nausica Pinese, COO of Securitisation Services, is also taking part at the following panel discussion:
Track A – h. 12:00
The Importance of Servicing and Quality of Data Reporting
Jurisdictional changes- can this be seen in data already?
How do recovery expectations differ between sellers (banks) and buyers (private equity)?
Data availability, and efforts to digitalize the loan data on an electronic platform
Servicing costs
Alignment of interest between equity, senior noteholders and servicers
Do business plans start to include jurisdictional changes for work-outs?
Importance and timeline for transferring servicing responsibility from the loan originator to a 3rd party
For more information about the event please visit the website of the IMN Conference