04 June 2019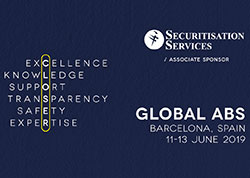 Global ABS 2019, Securitisation Services associate sponsor
Securitisation Services is proud to be Associate Sponsor of the 23rd "Global ABS", a catalyst for sales relationships, industry updates, key trends and latest news from structured finance sector.
AFME and IMN's annual conference will take place on 11-13 June, in Barcelona. Global ABS is the most awaited European meeting focused on securitisation market and will bring together major structured finance's players, as investors, banks, rating agencies and services providers.
Participants can listen to different panels through this three days conference. The 2019 agenda will feature an outlook on new innovations, on how the market is adapting to the now securitisation regulations (reference to STS compliance) and on securitisation's role in contributing to economic growth and building capital markets union in Europe.
Save the date and come to visit Securitisation Services' stand at the exhibiting area.
Links: