26 March 2021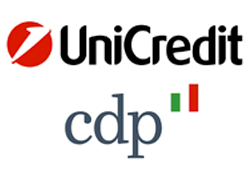 Banca Finint with UniCredit and CDP (Cassa Depositi e Prestiti) in a Basket Bond transaction
Today a Basket Bond transaction was finalized for a total of 200 million euros that Cassa Depositi e Prestiti and UniCredit have launched to finance the investment plans of companies belonging to the strategic sectors of the Italian economy.
The structure of the transaction provides for the intervention of the securitisation vehicle Garibaldi Tower Basket Bond which, together with Unicredit, acts as the underwriter of the minibonds issued by Italian companies.
The first issuance of minibonds, which took place today, is entirely dedicated to the wine supply chain. Three Italian companies active in the wine sector have issued minibonds for 21 million euros in order to finance their respective development plans on the national and international market.
In the securitisation, Banca Finint plays the roles of Computation Agent, Corporate Servicer and Servicer, also monitoring the commitments undertaken by the issuing companies.
Links: